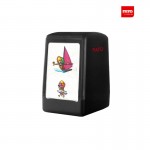 FATO bar napkin 17×17 Gelato 2000/1
FATO bar napkin 17×17 Gelato 2000/1
Universal size 17×17 1sl
Ideal for high frequency locations
Each package in its wrapper
Food contact approved by the EU Commission.
2000/1 Pak
10 Pack / Carton
The dispenser is ordered separately on request.
Fato offers Ho.Re.Ca a range of napkin dispenser systems worldwide. Exclusive design that combines functionality with style.