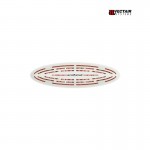 Vectair ECOSHELL® air freshener
Vectair ECOSHELL® air freshener
Universal air freshener with Clip and go, clip and cast technology
The elegant Universal EcoShell® air freshener is an aerosol-free solution.
Using our revolutionary Clip and go, clip and met dizajn design, EcoShell® has a very persistent scent.
Can be used in a variety of locations, such as hotel bedrooms, air conditioning vents, homes and offices.
Large internal surface of the freshener for high quality and effective odor performance.
Once the charge is used up, replace it with a brand new version using the same fix.
Recycled plastic, made from EVA materials.
No aerosols, batteries, fans, electricity, etc … Only natural airflow.